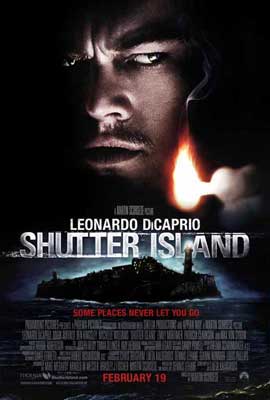 Finally, a horror/thriller that actually, genuinely scares the crap out of you. Not because it has fancy villains in masks or sadistic buckets of gore throughout. No, it scares you because it messes with your mind. Most will hate this movie, they don't like their brains being tampered with. I loved it. It's what we needed after all those gory R-rated and sometimes lame-duck PG-13 horror crap-fests.
The horror/thriller genre has been raped lately, with gore and scantily clad- women replacing the noir and terror that Alfred Hitchcock perfected in the '50s and '60's. Here director Martin Scorsese delivers in full blast, crafting a thriller in his own unique vision. The atmosphere throughout the movie is tense and unsettling. Slow as it may be, but it is crucial to the movie and it's genuinely gripping. Your attention WILL not be lost. The scenery is beautiful and finely done with no excessive lighting, grain or darkness. The editing by Thelma Schoonmaker is fluid and pitch-perfect, and never makes the film lose focus. The movie is based on a book by Dennis Lehane and is packed with twists and turns that will leave you breathless and uneasy. The movie cranks the breathlessness and uneasiness up to the power of 5. The music is also perfectly suited with the scenes. There is sometimes no music during suspenseful moments, and sometimes the music makes the scene even more disturbing and memorable. Alfred Hitchcock's noirish thriller style is back with a vengeance, here to teach today's moviegoers the REAL meaning of suspense and horror.
All the actors in the movie are in top-form. Once again, you can't go wrong with a Leonardo DiCaprio/Martin Scorsese collaboration. As the protagonist, we the audience are thrust into his shoes and we are about as confused and scared as his character is, we feel what he feels. It becomes a psychological trip that poses many, many questions about oneself, that to discuss them here would spoil the entire movie. There are some flashbacks in the movie, but all of them are important clues to DiCaprio's character. DiCaprio gives a stunning performance, once again tempting the Academy to give him another Best Actor nomination. DiCaprio gives a vivid portrayal of a vulnerable, haunted and ultimately terrified man. Apart from DiCaprio there's really not much I can say about the supporting cast, because they are all also terrific. Ben Kingsley; Mark Ruffalo; Michelle Williams; Max Von Sydow; Jackie Earle Haley; Emily Mortimer; Patricia Clarkson; Ted Levine; Elias Koteas; John Carroll Lynch. All of them.
In short, this is a psychological and frightening masterpiece that will make you scared, will make you think, and will make you seek psychological help. This is one of the best films of the year. See it, go in with an open mind and prepare to be blown away.